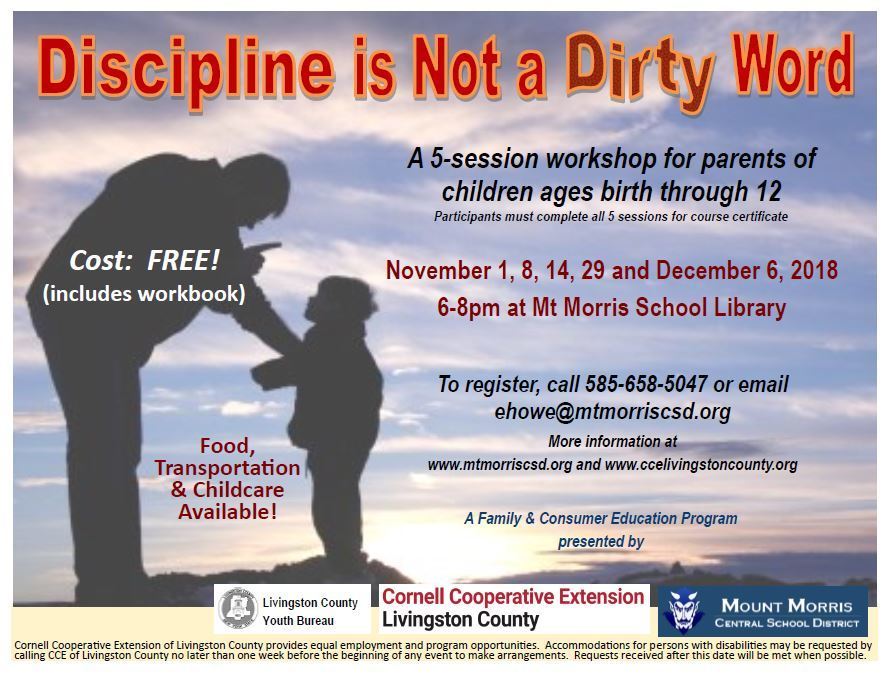 Strengthening Families Program
MMCSD
Wednesday, October 24, 2018
Mount Morris Central School District invites you to participate in the Strengthening Families Program. There is no cost to attend and transportation, child care, and food are also provided at no cost. Sessions will be offered on November 1, 8, 14, 29, and December 6, 2018 and are held from 6-8 pm in the high school library. The dates are also listed on the registration form.
The District is currently offering the Discipline is Not a Dirty Word course. This is a five session workshop for parents of children ages birth through 12. Participants must complete all five sessions to obtain the course certificate.
If you are interested in registering for this great opportunity, please complete the registration form below and email it to Esther Howe at ehowe@mtmorriscsd.org.
If you need assistance with registering, or would like to know more about this program, please call Esther Howe at 585-658-5047, she will be happy to answer any questions you have and assist you with the registration process.