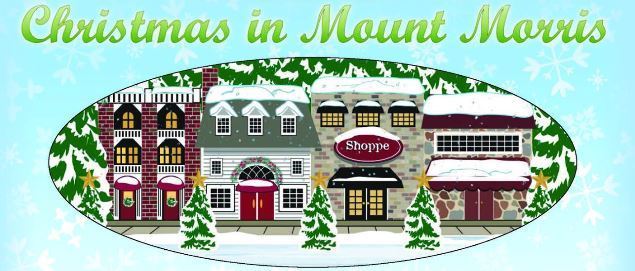 13th Annual Christmas in Mount Morris
MMCSD
Wednesday, November 28, 2018
The Village of Mount Morris is hosting its annual Christmas in Mount Morris on Saturday, December 8, 2018. All village shops will be open for business throughout Main Street.
Christmas in Mount Morris will commence at 9:00 a.m. with the Mount Morris Kiwanis Breakfast with Santa held at the Mount Morris VFW.
Beginning at 11:00 a.m., a variety of activities will be available including a scavenger hunt, a holiday open house at Mills Mansion, face painting, ornament painting, horse-drawn carriage rides, a live nativity scene, storytelling with Mrs. Claus, and more.
Golden tickets were given to Mount Morris elementary students up to fourth grade. The winner of the golden ticket drawing will have the opportunity to light the Christmas Tree and will be able to take the first horse-drawn carriage ride.
Also at the Christmas Tree Lighting Ceremony, four winners will be chosen for the Mount Morris House Decorating Contest. These winners will receive a free ham and a Best Decorated House in Mount Morris ornament.
See below for a full listing of events throughout the day:
9:00 a.m. – 11:00 a.m. – Mount Morris Kiwanis Annual Breakfast with Santa, Mount Morris VFW, 3 Elm Street
11:00 a.m. – 1:00 p.m. – Coloring with Kids with Village of Mount Morris Parks & Recreation, Firehouse Youth Center
12:00 p.m. – 4:00 p.m. – Scavenger Hunt (up to age 10) *Prizes*, Main Street Merchants, begins at Theatre 101
12:00 p.m. – 7:00 p.m. – Christmas Music and Karaoke by TNT Entertainment
1:00 p.m. – 2:30 p.m. – Storytelling with Mrs. Claus, Mount Morris Library, 121 Main Street
2:00 p.m. – 4:00 p.m. – Holiday Open House at Mills Mansion, 14 Main Street *cookies, mulled cider, & hot chocolate available*
2:30 p.m. – 4:30 p.m. – Mr. Scribbles, Face Painting, Ornament Painting, Theatre 101
5:00 p.m. – Parade of Lights on Main Street
5:30 p.m. – Christmas Tree Lighting by Golden Ticket Winner, Pocket Park, Main & State Streets
Announce winners of House Decorating Contest
Village Carolers Perform
6:00 p.m. – Refreshments at the Town Hall
6:30 p.m. – 8:30 p.m. – Visit with Santa Claus, Theatre 101, Horse Drawn Carriage Rides, Village Parking Lot
7:00 p.m. – 7:20 p.m. – Live Nativity, performed by Firehouse Youth Center, Main and Chapel Streets
All events are free to the public, however, monetary donations are appreciated and can be made at various drop-off points throughout the village. All donations will benefit the Mount Morris Rotary.